Take a peek at how we keep bath time fun in our home! Thank you to Collective Bias for sponsoring this post. All opinions are mine alone, and I take pride in showcasing the best products for you all! #GiftingForBaby #CollectiveBias
Bath time at our house is one of my favorite activities. When I was pregnant with Inez, I was so unbelievably sick. The bath was one of the only places I felt a small reprieve from my nausea and vomiting. So, Julian and I would sometimes take one or two baths a day! I had to get creative to find ways to keep bath time exciting for my little one! When I saw these adorable, newly designed Johnson & Johnson products at our Silverdale Target, I knew bath time would get a little more exciting for Jules. Here are a few ways that we keep bath time fun in our household: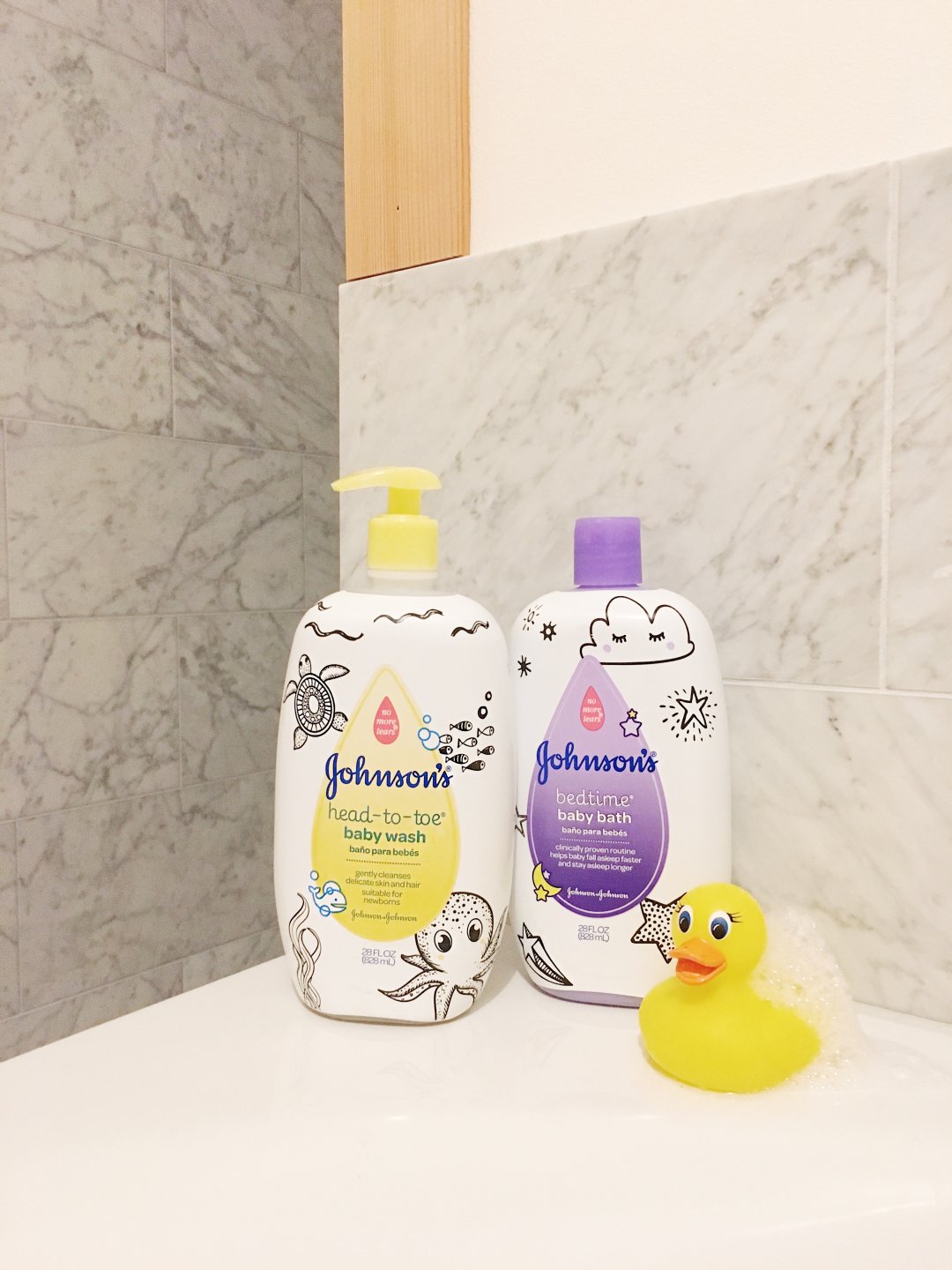 You can shop these products simply by hovering over the image above!
1. Bath time is anytime. Mamas, you know how crazy nighttime is! You scramble to cook dinner, feed your babes, clean up, brush teeth, take a bath, read a book. The list goes on and on. One way I try to alleviate the nighttime hustle is by giving baths in the morning or the afternoon. It's a fun way to break up the day, and to check one thing off that nighttime to-do list. Of course, this does not apply to the days when your toddler eats spaghetti with his hands for dinner.
2. Choose products your kiddos will love. These Johnson & Johnson products with the oh-so-adorable design packaging are exclusively available at Target. I picked up the Johnson's Head-to-Toe Wash, Johnson's Baby Bedtime Bath, and Johnson's Baby Lotion because I knew Jules would love these fun designs! Julian is really interested in the octopus on the Head-to-Toe Wash bottle. He thinks it's hysterical that octopuses have 8 legs. It's a simple way to get your kiddo to love to soap up! These would make for the cutest package for a soon to be mama too. A fun gift for mom and baby!
3. The bubble song. I learned this song from baby story time at our local library when Julian was a newborn. It's been a beloved part of our bath time routine ever since. And I'd like to think it was how Julian learned to count to 10 on his own!
"One little, two little, three little bubbles,
Four little, five little, six little bubbles,
Seven little, eight little, nine little bubbles,
Ten little bubbles go pop! pop! pop!"
(Count bubbles on fingers and clap when you say, "pop!")
4. Use the best. At Johnson & Johnson, safety is their top priority. I love that I can trust this brand on my little ones. These products are paraben free, hypoallergenic and not tested on animals.
5. Baby massage. I love capping off bath time with a baby massage! This design on this Johnson's Baby Lotion is such a fun take on an old classic. When I'm giving Julian his massage I like to talk to him explaining "this is your left leg, here is your right arm, this is your belly!" He loves it, and I love that he's getting soft skin and a little anatomy lesson.
How do you mamas keep bath time fun in your homes? Let me know in the comments!
xx,
Heidi